Advitam IP takes a moment to honor the legacy of A. Sidney Katz, a loving father, husband, and mainstay of Chicago's legal community up until his passing on September 10, 2012. In tribute to the 10-year anniversary of Sid Katz' passing, Advitam IP is commemorating him through a series of social media posts featuring quotes and stories about his legendary impact in the community around him. Follow us on LinkedIn, Facebook and/or Instagram to learn more! We at Advitam IP carry forward all the important lessons we learned at the Welsh & Katz law firm and are grateful to Sidney Katz and all those who taught us how to properly conduct an IP firm.
A. Sidney Katz was a larger-than-life presence who left a memorable impression on the people around him, no matter where he was. Born on the west side of Chicago, Sid's family moved to Skokie, Ill when he was in high school where he graduated from Niles Township High School in 1957. He went on to the Illinois Institute of Technology in Chicago, earning his B.S. in electrical engineering in 1962. In early 2011, the university radio station named its studio — where he used to host a student radio program — in his honor.
While working full time as a patent examiner at the United States Patent and Trademark Office, Sid earned his J.D. from The George Washington University Law School in 1966, where he also was a member of the Delta Theta Phi law fraternity. He went on to be an extremely dedicated alumnus and served as an inaugural member of the dean's Intellectual Property Advisory Board. In 2008, he endowed the A. Sidney Katz Lecture Series, which brings notable attorneys, judges and legal scholars to the university to discuss developments and issues surrounding the field of intellectual property law.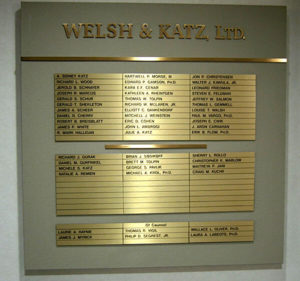 Some time after finishing law school and spending fifteen years with the firm Fitch, Even, Tabin, Flannery & Welsh, Sid went on to co-found Welsh & Katz in 1983. Welsh & Katz grew to a formidable size and became known for its impressive success record and its international practice. Sid became an icon in the IP boutique community, and everyone respected him and the Welsh & Katz firm lawyers and legacy as a formidable team. Before its 2008 merger with Husch Blackwell, Welsh & Katz maintained over 50 attorneys and served a variety of clients from its Chicago headquarters.
Sid was a very accomplished individual and throughout his career received numerous awards. Sid lectured at conferences and seminars sponsored by groups such as the Patent Resources Group, the U.S. Trademark Association Forum, the Practising Law Institute, the Conference of the Computer Law Association, and the Second International Conference of the Japanese Amusement Machine Manufacturers in Tokyo. Additionally, after only 15 years in practice, Katz was awarded the 1982 Patent Resources Group Award of Distinction for Outstanding Contribution to the Field of IP Law because of his work in the protection of video games. Sid received numerous other awards that include the Torch of Learning Award from Hebrew University and the Judge Learned Hand Human Relations Award from the American Jewish Committee.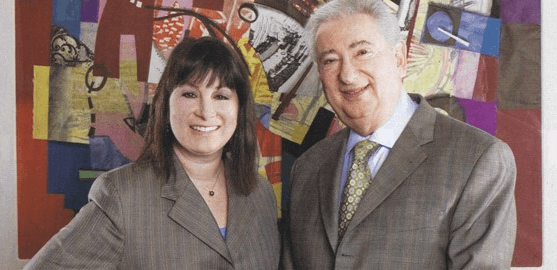 Despite great stress in his profession, Sid moved through life with a sense of calm and an ever-present twinkle of whimsy. He had an unbreakable joie de vivre for life and had great pride in, and a special bond with, each of his children and grandchildren. Although he is missed, his memory lives on through the people around him and those who built their careers under his legacy carry on in his honor.