Representative Industry Experience
Our attorneys' collective professional experience includes the representation of clients from a diverse range of industries. This vast hands-on knowledge of industries, ranging from service and entertainment to manufacturing and cutting-edge technology, gives us unique insight into a wide range of complex IP issues. Our experience includes working with clients in the following industries:
---
Airbag Technology
Alternative Fuels
Banking
Beverages (alcoholic and non-alcoholic)
Books and literacy
Candy
Chambers of Commerce
Clothing
Coaching
Community Groups
Consumer Products
Construction
Dentistry
Entertainment
Firearms
Food
Graphic Design
Hard Drives
Health Care
Identity and Branding Consultants
Industrial Machinery
Internet Technology
Insurance
Interior Design
Jewelry
Law Enforcement
Law Firms
Marketing and Website Services
Medical Instruments
Newspapers and Magazines
Nonprofit Associations
Photography
Resorts
Restaurants
Retail Stores
Scientific Research
Social Commerce
Software in Various Industries
Tobacco
Television Recording
Toys
Underwater Retention/Detention Systems
Wine
Woodworking and Metalworking Machinery
---
"
Imagine being confronted with late renewal filings, and worse, a competitor attempting to encroach on your own long-standing, good name and trademarks. Add an absent trademark attorney not feeling the impending disaster and required sense of urgency. Thank goodness we were introduced to Advitam IP. After successful challenges to the competitor, we again control our business and trademarks. Advitam proved to be professional, responsive and capable, keeping us informed and focused, and letting us know the costs of each service before we began. They know and work with our longstanding international trademark attorneys. We feel secure knowing we have the strength of the Advitam team working as part of our team.
"
Mary Anne Jackson, President, My Own Meals, Inc.
REPRESENTATIVE MATTERS
Our attorneys' collective professional experience includes the following specific matters:
---
Represented numerous clients in Uniform Domain Name Dispute Resolution (UDRP) cases, including multiple software companies, a residential service company and a super-regional banking company.
Managed trademark portfolio in multiple countries for Internet security technology start-up company and assisted with IP due diligence for three rounds of private equity investment.
Coordinated IP protection strategy for group of privately held entertainment related companies.
Advised Internet start-up company regarding cost effective ways to protect and strategically position its IP assets.
Coordinated and filed entire United States trademark portfolio for multiple pharmaceutical companies.
Consulted for furniture design company regarding provisional patent application strategies.
Assisted with IP due diligence for sale of media company.
Developed trademark strategy for existing international shoe company entering the United States market.
Managed United States patent portfolio for Latin American-based company.
Managed United States IP portfolio for Canadian-based technology company.
Managed United States IP portfolio for European-based healthcare company.
Established United States customs and anti-piracy programs.
Assisted domestic and European clients with franchising businesses.
Assisted with global licensing and enforcement programs of patented inventions.
Managed national and global trademark and patent portfolios.
Policed online trademark infringement and domain name abuses.
Drafted domestic and global publishing agreements, settlements, releases, licenses of intellectual property across industries.
Represented plaintiff in patent infringement litigation involving mattress pad technology. Case settled.
Represented plaintiff in patent infringement litigation involving motors and hard-disk drives. Client was able to reach favorable settlements with defendants.
Represented defendants in trademark infringement litigation involving the use of color on woodworking and metal working machines. Case settled.
Represented defendants in patent infringement involving motors and hard-disk drives found in virtually all personal computers.
Represented plaintiff in patent infringement litigation involving airbag technology for automobiles. Case settled.
Represented plaintiff before American Arbitration Association and Federal Court in patent infringement litigation involving the technology of molded airbag covers involving 28 patents. Case settled.
Represented opposers in oppositions before the Trademark Trial and Appeal Board involving such varying industries as software, insurance, television related equipment; mechanical devices, pharmaceuticals, and holiday decorations.
---
"
Advitam IP has taught us how to strategically identify our key intellectual property patent and trademark assets and focus our legal protection to where it matters most. Our requests are met timely and the advice provided is easy to understand and apply to our business objectives. The Advitam team keeps us updated regularly so we always know the status of our IP assets.
"
Mike Saltijeral, President, Industrial Fence, Inc. (IFI) and Perimeter Security Solutions (PSS)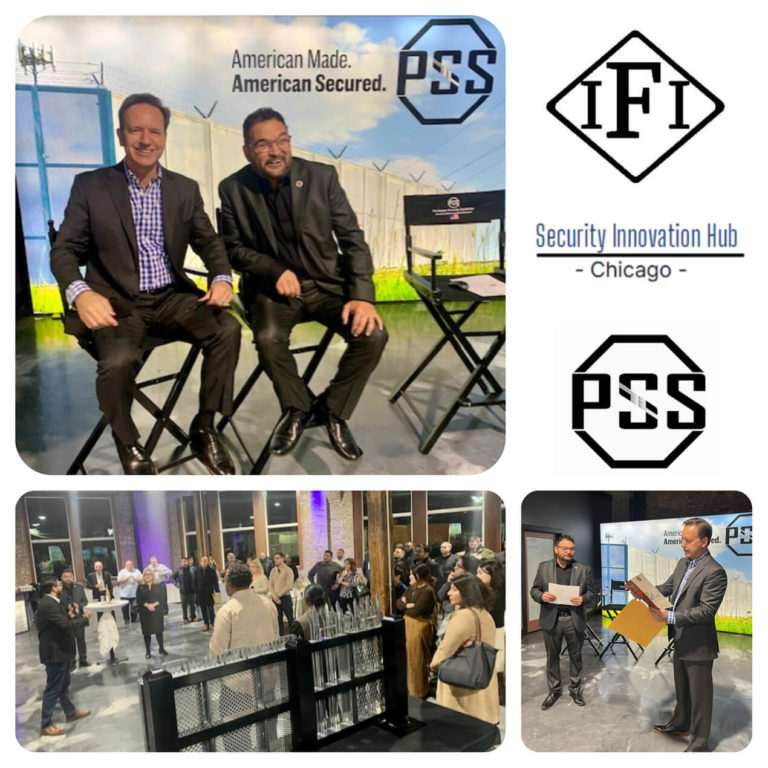 Launching Chicago's Security Innovation Hub by PSS
---