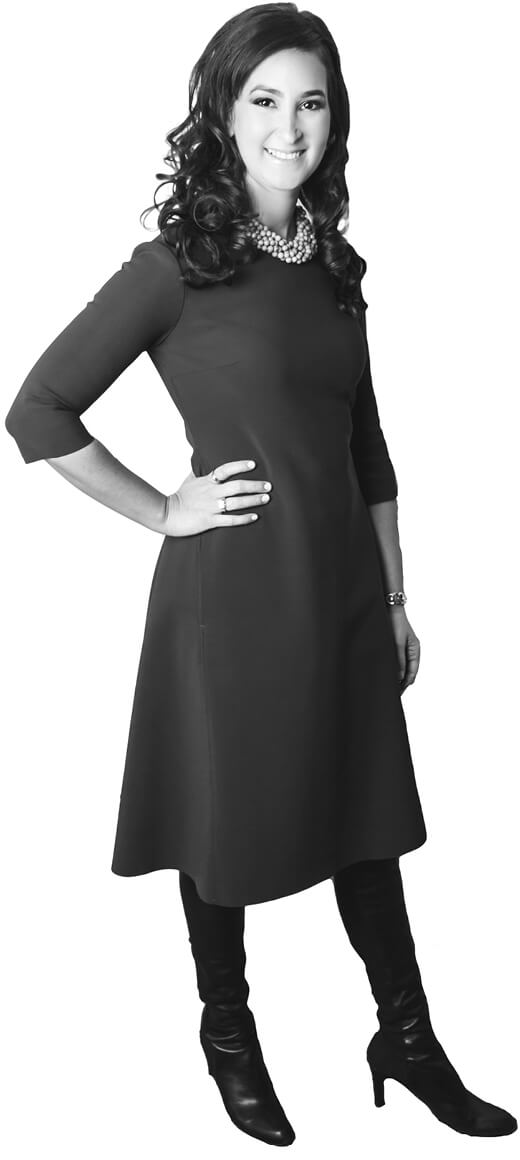 Michele S. Katz
Founding Partner
---
A Powerful Ally
Michele Katz, the founder of the intellectual property law firm Advitam IP, LLC, has provided client counseling, in-depth strategic analysis, licensing, prosecution and litigation in all areas of intellectual property (IP) law for over 20 years. Her diverse skill set and drive to deliver results that accomplish client objectives applies equally to obtaining trademark and copyright registrations and issued patents, as it does in obtaining favorable outcomes in state and federal court and before the Trademark Trial and Appeal Board (TTAB), US Customs, and the US Court of Appeals for the Federal Circuit. As a certified mediator, Michele has also successfully brought parties to creative solutions for their disputes.
A Mentor and Sponsor
She is most passionate about giving back in a meaningful and measurable way. Her firm, in collaboration with her family, started a scholarship fund in the name of her beloved father, an icon in the IP field, and annually funds a master's scholarship in the innovative sciences at The Hebrew University (Israel). In the same vein, Michele created an online program that mentors law students and new lawyers all over the world in all aspects of professional development and goal attainment.
An Educator
An advocate of education, Michele is also on the speaking circuit. She has spoken on high level IP topics at global conferences, such as at the Asian Patent Attorneys Association's Annual Meeting in Okinawa, Japan. She has focused her educational efforts at the grass roots level as well. She has delivered presentations on IP law to new business owners via 2112, a local music, film and technology incubator, and at the LatinX Incubator, a joint effort of the Illinois Hispanic Chamber of Commerce and 1871, Chicago's technology and entrepreneurship center. Since 2015, Michele has served as the expert on IP law and entity formation for the Young Entrepreneurs Academy (YEA!), a transformative after school program. She started the program while serving as President of the National Association of Women Business Owners (NAWBO), Chicago Chapter. The program is geared for 12-17 year old girls and teaches them how to select, research, vet, develop and market a business.
---
"
Working with Michele Katz and the Advitam IP team has been such a delight. Always professional and quick to respond, I know that she is someone I can trust to protect my company's logo and brand.
"
Elizabeth Colon, Founder, Metaphrasis Language and Cultural Solutions, Inc.
---
Honors and Recognition
Michele has been selected as a Super Lawyer every year since 2021, and prior to that was recognized by Super Lawyers Magazine as an Illinois Rising Star in Intellectual Property Litigation for six consecutive years. Every year since 2019, she has received a nomination to the IAM Strategy 300 – The World's Leading IP Strategists. The guide created by IAM Strategy identifies the individuals who are leading the way in the development and implementation of strategies that maximize the value of IP portfolios. Since its inaugural issue in 2019, Michele has been the only U.S. attorney to contribute to the Women's IP World annual magazine, and is the host of the magazine's podcast. Michele has also been awarded Trademark Litigation Expert of the Year in Illinois by the CorporateINTL; a recipient of the Leading IP Litigator of the Year (IL) by Acquisition International; named best in Trademark Litigation of the Year (USA) by Lawyer International Legal's Top 100 firms and individuals; recognized as an International Advisory Experts Award Winner, a global alliance of well-established and experienced legal, financial and consulting firms; featured in Marquis Who's Who in America, the standard for reliable and comprehensive data for today's leaders; selected as a Leading Lawyer; placed in the Global Law Experts Handbook, and included in the Top 100 Alumni We Love from her alma mater, The Hebrew University. Nominated by her prior firms, Michele also received the Corporate Woman of Achievement Award in 2005, 2006, 2008 and 2010 by NAWBO Chicago.
Personal Passions
Michele has passions outside of the IP world as well. She enjoys spending time with family, including her four children, traveling internationally, refining her foreign language skills, getting her heart rate up by hiking, kayaking, rock climbing, rappelling and ziplining, and riding her Peloton® bike, and relaxing with wine and whiskey tastings (check out her food and beverage themed Instagram @ordained_foodie). Every summer, she spends a week volunteering at La Semana, a week-long culture day-camp for children in elementary through high school who were adopted from Latin America, and their family members. Fostering cultural understanding has always been an integral part of Michele's personal life and Advitam IP's business practice.
---
Education & Accolades
Education
J.D., Chicago-Kent College of Law, International and Comparative Law Certificate Program, 2000
B.A., Psychology and Jewish Studies, Indiana University, with honors, 1997
Bar Admissions
Illinois State Bar
Minnesota State Bar
Admissions
U.S. District Court, Northern District of Illinois
U.S. Court of Appeals, District of Columbia Circuit
U.S. Court of Appeals for the Federal Circuit
Awards and Recognitions
Recipient of the 2023 Leading Advisor Awards, Leading IP Litigator of the Year (Illinois)
Voted into Illinois Super Lawyers, 2021 – 2023
Recipient of the 2022 Corporate INTL Global Award in the category of Trademark Litigation Expert of the Year in Illinois
Peer selected for Leading Lawyers, 2020 – 2023
Recognized by Marquis Who's Who in America, 2020
Included in the Top 100 Alumni We Love, The Hebrew University, 2020
Selected as the only U.S. attorney to be profiled in Women's IP World magazine, 2019 – 2020, 2021 – 2023
Nominated to the IAM Strategy 300 – The World's Leading IP Strategists, 2019 – 2023
International Advisory Experts (IAE) Award Winner, 2019
lllinois Super Lawyers, Rising Star, Intellectual Property Litigation, 2010, 2011, 2012, 2013, 2014, 2015
National Association of Women Business Owners, Corporate Women of Achievement Award, 2005, 2006, 2008, 2010
Professional Associations and Memberships (past and present)
American Bar Association
Asian Patent Attorneys Association (APAA)
Association Internationale pour la Protection de la Propriété Intellectuelle (AIPPI)
Chicago Bar Association
The Decalogue Society of Lawyers
Illinois State Bar Association
Intellectual Property Law Association of Chicago (IPLAC)
Inter-American Association of Intellectual Property (ASIPI)
International Trademark Association (INTA)
Pharmaceutical Trade Mark Group (PTMG)
Civic and Business Organization Involvement
American Friends of The Hebrew University
National Association of Women Business Owners, Chicago Chapter — Past President
---
Speaking Engagements
10.01.20
Cybersecurity for the Small Business Owner
National Association of Women Business Owners, Boardroom Exchange
07.23.20
IP 101
National Association of Women Business Owners, West/South Connects
12.05.19
"Legal Considerations for YEA! Entrepreneurs"
Female Strong, Young Entrepreneur Academy!, 1871, Chicago
06.13.19
Panel re: Business Ownership and Entrepreneurship
Female Strong, Young Entrepreneur Academy, 1871, Chicago
01.22.19
"Legal Considerations for YEA! Entrepreneurs"
Female Strong, Young Entrepreneur Academy!, 1871, Chicago
03.14.18
Educational presentation covering many aspects of intellectual property law, including transactional issues and dispute resolution for early stage, tech-focused companies
1871/Illinois Hispanic Chamber of Commerce Hispanic Technology Incubator
01.17.18
"Legal Considerations for YEA! Entrepreneurs",
NAWBO Chicago's Spirit Foundation, Young Entrepreneur Academy!, 1871, Chicago
12.19.17
"Legal & IP Basics for Startups"
NAWBO Chicago's Spirit Foundation, Young Entrepreneur Academy!, 1871, Chicago
09.01.17
Presentation on IP law to Tech Incubator Cohorts
1871/Illinois Hispanic Chamber of Commerce Hispanic Technology Incubator
01.10.17
"Legal & IP Basics for YEA!"
NAWBO Chicago's Spirit Foundation, Young Entrepreneur Academy!, DePaul University, Chicago
04.07.16
"Make Your Mark: Using Trademarks to Build and Protect Your Brand"
2112, Chicago's first incubator focused on the development of entrepreneurs and disruption in music, film/video and creative technology
03.30.16
"Women in Business Roundtable"
U.S. Small Business Administration-Illinois, Chicago
01.19.16
"Legal & IP Basics for YEA!"
NAWBO Chicago's Spirit Foundation, Young Entrepreneur Academy!, DePaul University, Chicago
01.07.16
"How to Identify and Protect your Intellectual Property"
2112, Chicago's first incubator focused on the development of entrepreneurs and disruption in music, film/video and creative technology
11.15.15
"The Mother of 'Non-Traditional Trademarks', the required DNA and how far have they grown as an effective tool of trademark protection"
Asian Patent Attorneys Association Annual Meeting, Okinawa, Japan
07.21.15
Legal Summit: Grow, Expand and Protect Your Business
National Association of Women Business Owners, Chicago Area Chapter, 25N Coworking, Geneva, Illinois
02.19.15
CEO Round Table
NAWBO Chicago's Spirit Foundation, Young Entrepreneur Academy!, Catalyst Ranch, Chicago
01.13.15
"Legal & IP Basics for YEA!"
NAWBO Chicago's Spirit Foundation, Young Entrepreneur Academy!, DePaul University, Chicago
11.18.10
"Standing Tall in a Shrinking Market: Top Three Ways You Can Strengthen Your Business Through Trademarks"
National Association of Women Business Owners, Chicago Area Chapter
05.22.10
"Strategies for Fighting Global Counterfeiting"
International Trademark Association, 2007 Annual Meeting, Boston, Massachusetts
11.11.08
"Intellectual Property for Entrepreneurs"
Distinguished Panel of Women program presented by Sunrise Events, Lombard, Illinois
10.20.08
"Fundamentals of Copyright Law"
Columbia College, Chicago, Illinois
04.30.07
"International Trademark Anti-Counterfeiting"
International Trademark Association, 2007 Annual Meeting, Chicago, Illinois
04.17.07
"No Matter the Age of Your Business, Learn How to Strengthen Your Publications, Brand, Identity and Content Through the Use of Trademarks and Copyrights"
National Association of Hispanic Publications, Annual Convention, Scottdale, Arizona
04.16.07
"Trademark and Copyright Q & A"
National Association of Hispanic Publications, 2007 Annual Convention, Scottsdale, Arizona
02.14.07
"Fundamentals of Copyright Law"
Columbia College, Chicago, Illinois
04.01.06
"Gamble with Your Chips not your Trademarks: Learning how to Protect your Publication's Name, Logos, and other Intellectual Property Assets"
National Association of Hispanic Publications, 2006 Annual Convention, Las Vegas, Nevada
03.12.05
"Trademarks and Copyrights for Minority-Owned Publications"
National Association of Hispanic Publications, 2005 Annual Convention, Philadelphia, Pennsylvania
03.22.03
"Copyrights for Publishing Industry"
National Association of Hispanic Publications, 2003 Annual Convention, Las Vegas, Nevada
03.16.02
"Copyrights for Publishing Industry"
National Association of Hispanic Publications, 2002 Annual Convention, Dallas, Texas
---
Videos & Podcasts
10.05.15
Thrive Conference 2015 Highlights
National Association of Women Business Owners, Chicago Chapter
Watch Video
10.05.15
THRIVE Conference 2015 Promotional Video
National Association of Women Business Owners, Chicago Chapter
Watch Video
---