Richard J. Gurak
Founding Partner
---
A GLOBAL INNOVATOR
Richard as the founder of Advitam IP, LLC knows what it takes to work with entrepreneurs and innovators because he shares their commitment to building a world class organization from the ground up. With a passion for exploring the world and interconnecting global markets, Richard has traveled extensively during the past two decades developing a diverse domestic and international intellectual property practice. He represents numerous established and start-up businesses based in North America, Latin America, Europe, Africa and Pan-Asia. He serves his clients in the areas of patent, trademark, copyright, domain names and trade secret matters, including the filing of applications, trademark clearance, dispute resolution, preparation of assignment and licensing contracts, intellectual property negotiations, IP portfolio management, client counseling, and preparation of validity, right-to-use and infringement opinions. With professional relationships that span the globe, Richard connects his clients to their greatest potential.
BUILDING NEW CHANNELS OF POTENTIAL
Prior to founding Advitam IP, Richard was a partner at Welsh & Katz, an IP boutique in Chicago. And prior to Welsh & Katz, Richard worked as a systems improvement engineer with an engineering consulting firm. From 1986 through 1993, Richard served as a civil engineer in the U.S. Navy Reserve SEABEES, the United States Navy construction battalion. Now, Richard serves established, high-technology companies and startup firms, helping them to create and build a new Internet presence. His strong relationships with organizations that offer consulting for development and investment sources translate into a unique advantage to transform launches into legacies.
---
"
We have been working with Richard Gurak and the team at Advitam IP for many years and are impressed by so many aspects of what they do. We are a fast-growing company, not only is their work and advice incredibly concise and useful, but their response time is so impeccable! Their breadth of knowledge on intellectual property and other areas of the US laws and regulations for our industry has been excellent. Every team member is pleasant to work with and they explain things in detail but in terms that we can easily understand.
"
Dionne Laslo-Baker, CEO, DeeBee's Organics Inc., Canada
---
CULTIVATING GOOD NEIGHBORS AT HOME AND ABROAD
One facet of Richard's practice is dedicated to representing Latin American companies. He serves as IP counsel to the Illinois Hispanic Chamber of Commerce (IHCC), the largest community of Hispanic business owners across Illinois and the Midwest. IHCC helps entrepreneurs and business owners either start or grow their businesses. From 2011 to 2013, Richard assisted as Chairman of the Advisory Board of Casa Ciudad de Mexico, an organization established by the Office of The Mayor of Mexico City to encourage Cultural and Business exchange between the U.S. Midwestern region and the City of Mexico. He contributed as a board member of Chicago-based Luna Negra Dance Theater, a culturally diverse contemporary dance organization. This investment in strong international partnerships is what gives Advitam IP's clients a broader range of market protection and potential. In addition to these activities, Richard is an active member of the Union League Club of Chicago, sharing in this organization's commitment to the city's cultural institutions, the beautification of the city and supporting our nation's military and their families.
PERSONAL PASSIONS AND GIVING BACK
When Richard is not serving the interests of his valued clients, he is immersed in the activities that enrich his life. He loves spending time with family and friends, world travel, painting, photography, visiting vineyards and wine tasting. He is a willing and well-versed Chicago bike tour guide, particularly tours of the city's beautiful lakefront. In addition, Richard mentors aspiring intellectual property attorneys through the John Marshall Law School Alumni Mentor Program. Richard contributes to numerous charities and foundations as a way to support others. Lastly, via Advitam IP, Richard is a supporter and owner of the IP Junkies® — a group that hosts IP professionals from across the world at the firm's annual INTA client appreciation party.
---
Education & Accolades
Education
J.D., John Marshall Law School – Chicago, 1997
B.S., Mechanical Engineering, University of Illinois, 1990
Bar Admissions
Admissions
U.S. Patent and Trademark Office, 1997
Awards and Recognitions
National Register of Who's Who, Lifetime Member
Professional Associations and Memberships (past and present)
American Bar Association
Chicago Bar Association
Illinois Hispanic Chamber of Commerce, (IHCC), IP Counsel
Illinois State Bar Association (ISBA)
Inter-American Association of Intellectual Property (ASIPI)
International Trademark Association (INTA)
Intellectual Property Law Association of Chicago (IPLAC)
Patent Law Clinic of John Marshall Law School – Chicago, Founding Member and Past President
Civic and Business Organization Involvement
Casa Ciudad de Mexico; Chairman of Advisory Board
Luna Negra Dance Theater, Board of Directors
The Advisors Club; Co-Founding member
Active member of Union League Club Chicago
Alumni Mentor at UIC John Marshall Law School
---
Publications & Podcasts
10.2020
Guest, "Richard Gurak: Building A Powerful Law Firm (Paper-Free) And Out-Of-The-Box Thinking", THE 1958 LAWYER Podcast
Listen to the podcast here
05.2010
Author, "U.S. Provisional Patent Applications – A Lower Cost First Filing Alternative", North Suburban Bar Association Newsletter
04.01.07
"No Matter the Age of Your Business, Learn How to Strengthen Your Publications, Brand, Identity and Content Through the Use of Trademarks and Copyrights", National Association of Hispanic Publications
04.01.06
"Gamble with Your Chips not your Trademarks: Learning how to Protect your Publication's Name, Logos, and other Intellectual Property Assets", National Association of Hispanic Publications, 2006 Annual Convention, Las Vegas, Nevada
03.12.05
"Trademarks and Copyrights for Minority-Owned Publications", National Association of Hispanic Publications, 2005 Annual Convention, Philadelphia, Pennsylvania
10.2004
Co-author, "For Sale or For Family: Why Trademarks Are Vital to Your Business and Increase Its Value"
03.22.03
"Trademarks for Publishing Industry", National Association of Hispanic Publications, 2003 Annual Convention, Las Vegas, Nevada
07.01.02
"Introduction to Trademark Law: Protect Your Brand Identity and Reputation", excerpts published in Spanish in Enlace Download publication
06.01.02
"Introduction to Copyright Law: Seeking Protection For Your Work",
La Oferta Review Download publication
06.2002
Author, "www.In_TM_We_Trust / Why Trademarks Are More Important Than Ever in the Internet Age", e– Business Law Bulletin
05.06.02
"COPYRIGHT — Your right to protect your own work", By Leslie Malek for BizAméricas, featuring Michele S. Katz and Richard J. Gurak
Download publication
03.16.02
"Trademarks for Publishing Industry", National Association of Hispanic Publications, 2002 Annual Convention, Dallas, Texas
---
Speaking Engagements
2018
Educational presentation covering many aspects of intellectual property law, including transactional issues and dispute resolution for early stage, tech-focused companies
1871/Illinois Hispanic Chamber of Commerce Hispanic Technology Incubator
2017
Presentation on IP law to Tech Incubator Cohorts
1871/Illinois Hispanic Chamber of Commerce Hispanic Technology Incubator
2016
Participated in a round table meeting at the Mexican Consulate with Director General Simón Levy and other Illinois business leaders. The goal of this meeting was to strengthen relations and promote trade between two Global Gateway Cities: Chicago and Mexico City.
Mexican Consulate General in Chicago
04.30.14
"Trademarks, Copyrights, Domain Names, and Patents", information about how your brand, products, inventions and creations are all important in keeping your company competitive, and strategies on how to protect your valuable intellectual property assets.
Lunch and Learn Series, Industrial Council of Nearwest Chicago (ICNC)
08.29.13
Panelist, Start-Up Business Panel, provided an Intellectual Property presentation
Business Expo, Navy Pier, Chicago
05.15.13
Presenter, "Coaching for Growth", an overview on how intellectual property can protect your company's brand, reputation, products and services.
Federal Reserve Bank of Chicago
2011
"Cost Effectively Protecting Your IP Assets"
Industrial Council of Nearwest Chicago
2009
"IP Basics for Business"
Illinois Hispanic Chamber of Commerce
2009
"Patents, Trademarks, Domain Names: Protecting Your IP Assets"
Industrial Council of Nearwest Chicago
08.2007
"Intellectual Property Issues for Businesses"
IHCC Business Expo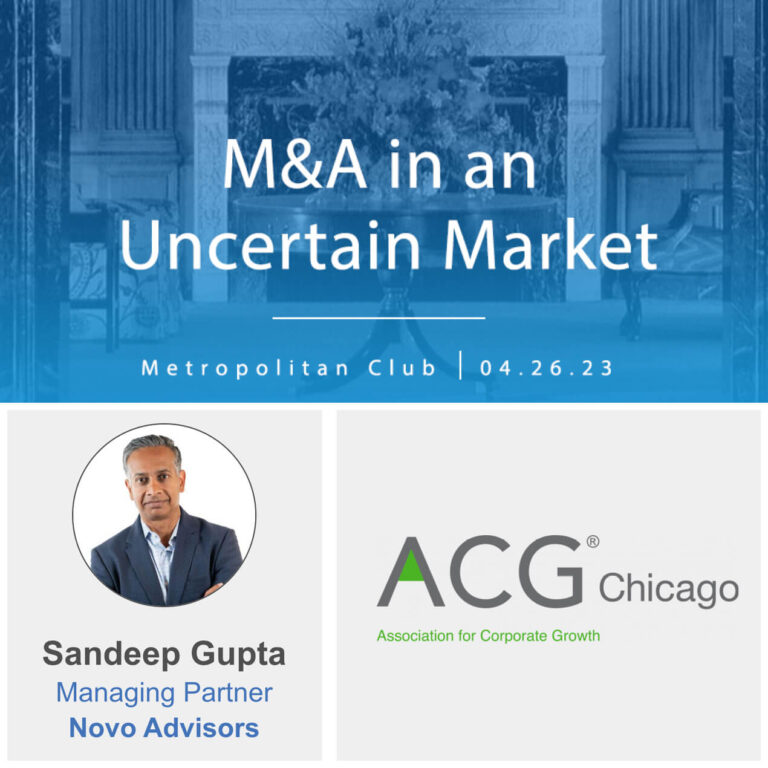 Sandeep Gupta of Novo Advisors Speaking at ACG Chicago Panel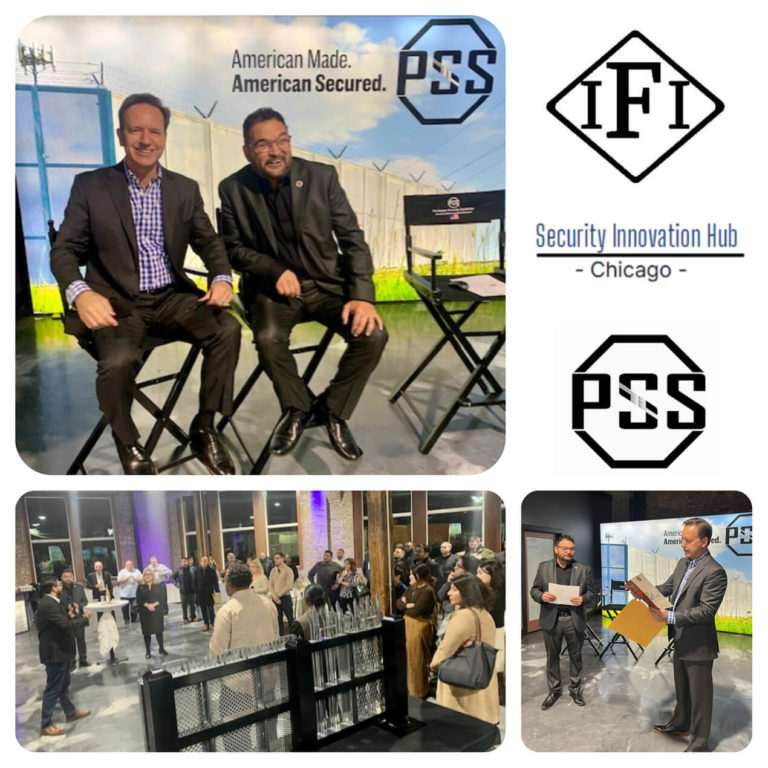 Launching Chicago's Security Innovation Hub by PSS
---